Calling all you creative types! It's time for the first (of many) PTT contests!
Here's the deal! This contest is themed towards the time of the year. You know what's on everyone's mind right now....NEW YEAR'S RESOLUTIONS DUN DUN DUN! Cookies are deposited in the trash. Cartons of cigarettes fly off of bridges. Ex-boyfriends' phone numbers are finally deleted. The bag of Snickers Fun Size left over from Halloween is run over by a car multiple times. I'm sure the different types of NYRs are as varied as the rows of meal replacement bars filling end caps at your local grocery store. Now I want to know what your NYR is. But since this is PTT, you can't just tell me...you have to show me.
I want to see your New Year's Resolution played out with ponies (and yes, other childhood toys too)!
And to the lucky winner goes this brand-spanking-new MIB G4 Applejack!
Ignore the bunnies. Nothing impresses them. To get your creative gears cranking, here's an example of a contest entry by Friend Of PTT, Kelly Wade. Her resolution is the ever-popular "remove weight from body" NYR, of which I'm sure many of you are already toiling under...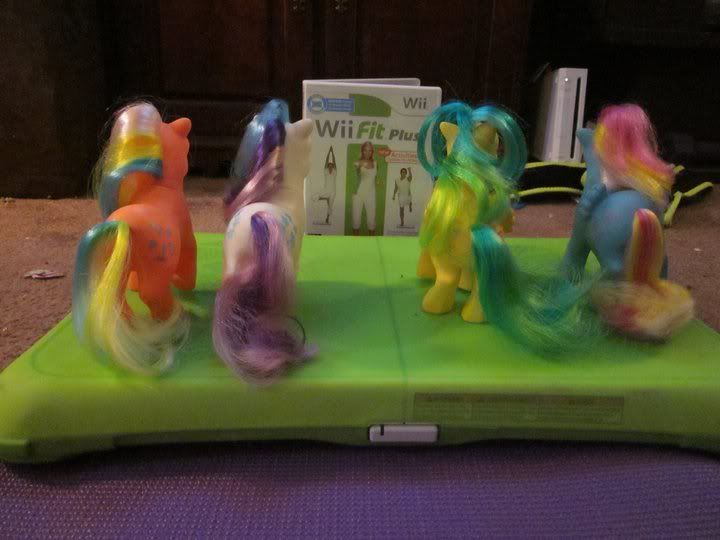 It's time to take a look at the contest rules and factoids. The bunnies love this part because someone can screw these up with their entry and give them something to make fun of. If you really like the bunnies for some odd reason, you can always send them a really bad entry to guffaw at.
1) Yes, this contest is open to international readers! :) With how slow the mail has been, you might have already blown your NYR by the time it gets to some areas of the world, but hey, I'm not watching you to see if you called your ex or downed a row of Oreos with a Diet Coke!
2) Although My Little Ponies need to show up in your entry, you're also allowed to use other childhood toys to supplement your storytelling. Note the emphasis on childhood toys...I do ask that the toys you use be ones from your childhood era, as opposed to using, say, Monster High dolls too. I suppose this is ageist against infants.
3) Just one photo, please and thank you! However, in that one photo you're allowed to do whatever you want. The theme of the picture doesn't have to be something humorous (I guess a dour, macabre entry wouldn't match too well with a humor blog, though, huh?), it just has to be creative. Think of your NYR and then think of the most entertaining way you can portray it. Do let me know what your NYR is exactly if it doesn't say it somewhere on the photo!
4) The entries will be judged by myself and the Friends Of PTT. We're a varied group of tastes when it comes to stuff like this, so we're not biased towards any particular thing. We can appreciate something super funny, super artistic, super thoughtful...whatever. It'll just come down to whatever entry sticks out in all of our minds the most.
5) Please keep in mind that I'll need an address to send Applejack to if your entry is chosen. If giving out your address on the Intarwebz gives you the heebie-jeebies (or you think it might cause issues with someone in your household), it's probably not a great idea to enter.
If you're already formulating plans for your entry, here's the rest of the info you'll need to know! Send your entries to aceercpATgmail.com (or, if you're an Arena member, you're welcome to contact me there). You're welcome to upload your entry to, say, Photobucket and just send me the link to the photo. The deadline for contest entries is January 16th with the winner announced by January 19th. I'll post the winning entry on PTT and contact the winner for details on where to send Applejack! I will also post the winning entry on My Little Pony Arena. Just think, you can add "achieved internet stardom" to your list of accomplishments for the year!
Good luck! May your creative energy not be sapped by your AbCoaster or piles of unfinished projects. I can't wait to see your entries!